Stair Lifts
Pinnacle Stairlifts: The Slimmest & Most Lightweight Stair Lifts on the Market
Click the video play button below to learn more about the Pinnacle Stairlift:
The Pinnacle is the true essence of an affordable and necessary luxury. The slimmest and most light-weight stair lift on the market, it folds to take up just 10.5 inches of staircase width.
Although exceptionally compact, Pinnacle boasts a 350 pound capacity with a wide, comfortable seat that swivels at the top landing to aid in safely entering and exiting the lift. Safety sensors prevent the lift from running if the seat is not in the proper position or if something is blocking the stairway or track.
Pinnacle's patented helical worm gear drive system requires less energy to operate and can make up to 60 trips should the power go out. The unique drive system does not require any messy greases or lubricants!
The folding rail option saves space and lessens trip hazards at the bottom of the staircase.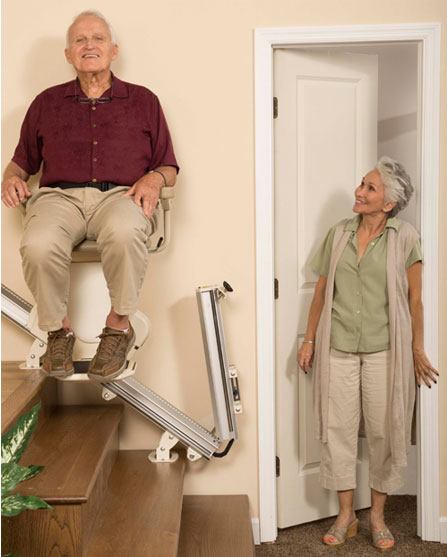 ---
Pinnacle Stairlift Product Details:
Narrowest stair lift in the industry – only 10.5" wide when footrest and seat are folded!
Lightest unit on the market – entire system weighs only 180 lbs installed (including 16' of track)
Swivel seat at upper landing, for easy and safe, entry and exit
Easy operating controls and indicator lights
Patented helical worm gear drive system for extremely smooth ride
Operable in a power outage – up to 60 trips!
Comfortable seat with height adjustment
Safety sensors will stop the lift if it meets an obstruction
No greases or lubricants; easy to vacuum and keep clean
3-Year warranty on components, 10-Year on gear rack, 1-Year on batteries
---
Pinnacle Stairlift Photo Gallery
Click the images below to enlarge:
---
Downloads:
5 Questions to Ask When Shopping for a Stairlift

What does the price you quoted include?  What does it NOT include?
What are your fees for a service call should I need it?
How long will I have to wait for a technician to come to the house once a service call is made?
What type of guarantee/warranty comes with the unit?
Once I purchase the product, will you attempt to sell me a warranty package for service calls?  How much is that package?  Are there any service calls included in the original unit price?